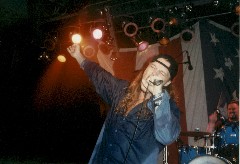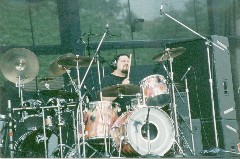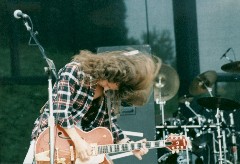 Chapter 6
Kinetic Faith

This record would be the turning point for the band. This would be the record that would begin to escalate us in the public's eye. God was about to move in a mighty way. When I did not move with him, he would force me to move. He had moved the prophets in the Old Testament when they refused to do things His way, and I was no exception. " ... For who hath resisted his will?" (Romans 9:19)

I still did not fully understand what was happening and how God had been shaping us all these years for this moment. We had three weeks to work Jerry back into the band and try to write some new tunes. Jerry's drumming was much tighter than Sean's, and it made the songs come together faster. Against our better judgement, we reluctantly agreed to use Steve Griffith again as producer. We were assured that we would not receive the same washed out, over-reverberant sound that we had got on the last project.

Steve made a one-day trip up from Nashville to conduct a "pre-production session" with the band. This turned out to be useless and a waste of money. He wanted to change everything. By the end of the day, we felt as though he was changing things for the sake of making change. (Later, fans and friends who had heard the same songs in demo form told us they preferred our versions of the songs better than the over production of the Griffer.) Star Song picked the Salt Mine Studio in Nashville as the place we would record and mix.

At this point, we still had no official contract and we went into the studio unsigned. Scott, however, did his managing thing, and by the second day of the record we had signed the deal. We brought in Rob Johnson again for some solo spots upon the request of Dez, who felt uncomfortable with Troy. (I perceived Dez felt uncomfortable with the whole band.) We were doing everything we could to develop a relationship with Star Song and to play by the rules. Our ways of doing things in the past had made us a lot of enemies, and we were determined to turn our critics into fans.

Steve continued to work against the band, making it difficult to sink into the session. We were losing motivation because of all of his changes, and we even had to take a break from recording to sit around a table and draw the songs out on paper, trying to make sense of all the restructuring. We attributed his faults to the trail mix he would eat and the fact that he wore gladiator sandals without socks. (Later I made a rule that no one in the band could wear sandals without socks.) At one point in the session, Steve's (who was behind the mixing board) voice became so irritating in my head set calling out instructions that when Rik hit a bad note on the song I went after HIM.

Rik was locked in an upstairs room with his amp. I literally broke the door down and began screaming at him to the top of my lungs. I really do not know why I took my hostility out on Rik when it was really Steve that I wanted a piece of at the time. After the misunderstanding, Rik took a long walk around the neighborhood, and later forgave me for my off base hostility.

We all got serious about finishing the record. Once again I was unable to stay for the mix. I had reservations about leaving Steve the soul commander of the mix. We had him to pull up some mixes before I left, and it sounded like it was going to work. Matter of fact, Jerry was really happy with the rough mix drum sounds.

Days later, when I got the mixes in the mail, I thought my ears were playing tricks on me. I went from stereo to stereo in the house, and even to the tape deck in the car, thinking surely to goodness it would sound normal on one system or the other. However, Steve had ignored our request, and obviously had not listened to our reference disc we had left with him. It was another washed out busy mix that even confused me. I remember having to rehearse the songs, trying to relearn them because they had changed so drastically.

The album was released with mixed reviews. It had a brand new sound that probably had never been heard on any planet before. Steve was proud we were annoyed and shocked. Dez even admitted that the mix took him by surprise the first time he had heard it, but in typical Dez fashion, he tried to smooth things over by saying that now he was used to it and really liked it.

We toured through the summer off and on, playing some clubs and a handful of Christian festivals. We were under the microscope the entire summer. There were the stage hands at the festivals who would sniff my cups that I would throw from stage, trying to find alcohol. There was the promoter in Florida who went through our bags looking for incriminating evidence when we left our rooms. I never understood why promoters were booking us for their shows when they doubted us, and, evidently, were waiting for us to make a mistake.

Jerry was still playing part time in the blues band, and, instead of canceling shows that lapped one another, we used Jerry's friend Max Maxwell for a few of the shows. Max was a lot of fun and would pull crazy things, but he was not destructive. He did silly things like placing the patio furniture of a Holiday Inn Hotel into the swimming pool. Max then parked himself in the chair in the swimming pool. Max only played a few shows with us, but he was always a blast.

Then there was the nightmare Halloween show at a "nobody coffeehouse" in Indiana. We played a full-blown show for about 25 homeless people who would have rather been anywhere but at this show. One block away from the coffee house was a haunted house that we nicknamed the Haunted Jail, where about 2000 people lined up for a couple of blocks to get in. Here we were playing in a run down coffee house for people who were hardly impressed, and right down the street a core audience who would have loved the heavy metal all lined up to enter a haunted house.

To this day I am convinced that 90% of the coffee houses that start with the intention of bringing in bands in the name of Christ have not been so instructed by the Holy Spirit. The reason I know this is almost every one doesn't survive the first year. We are thankful, however, to those rare folks who have heard the voice of God and opened a coffee house who have endured on God's strength. Another thing that I do not understand is why Bride seemed to always be the first band that a promoter would ask to play when having a grand opening? This always spelled disaster.

The next day, we headed to Ohio and the Kings Place. We had heard of the Kings Place, but knew very little about it. It was a dinner club turned into a Christian night spot. We were filling in for Bloodgood, who had canceled the date. We had heard that this was a great place to play and were very excited to get some miles between us and the "Haunted Jail."

I 70 to Columbus presented the most hazardous rain conditions we have ever experienced. Road construction narrowed the highway on both sides, and the monsoon limited visibility to 3 feet and less. Tractor-trailer trucks were out en force, and their taillights became a beacon for us to follow. These catastrophic conditions would not halt our forward progress. We had to play a show to redeem ourselves from the previous night.

When we eventually arrived at the Kings Place, there were people that had been standing in the freezing rain 4 hours before the show. We went out after sound check and talked to them. Before the doors opened, the crowd had grown and snaked its way around the building. We asked Ron, the fellow who ran the room, if he thought they were under the impression that Bloodgood was playing? We were trying to justify such a huge crowd. Ron said he announced weeks back that Bloodgood had canceled, and that this crowd was there to see us.

This was the loudest crowd we had ever played to. Even before we began it was hard to think backstage because of the noise. One thousand plus were squashed into the room. We had a few hecklers there in the beginning, and Ron forcibly removed them before we began the show. (There seems to always be someone in the crowd who is against Christian Rock.) The night was a great success.

We were very hard on ourselves in those days, and gauged our successes by each performance. If we had a good night we were on top of the world, but if the night was a failure we basically looked at the band as a failure. We were beginning to feel like we might be gaining ground again, and we were waiting for the shows to keep rolling in. But, after 5 albums under our belts, we were still struggling to get dates. This gave us plenty of time to write for the next record.

Then the talk of doing a real tour surfaced with a phone call from Jeff Moseley, the VP at Star Song. There was talk of 20 to 25 dates across the U.S. with the kings of Christian metal, Stryper! We knew Stryper was on their last leg, but we also knew that their draw would dwarf ours at least by double.

Negotiations between Moseley and Stryper's booking agent John Huey went on for weeks. Nothing was being decided, and we were being left out of the talks. Scott Hall, our manager, tried to call Huey, but never got a call back. Troy was trying to arrange his work schedule, but everything seemed tentative. Huey kept changing dates through faxes, and the tour was dwindling in its size.

We continued writing new material in this time period, and working out a thirty minute set for the tour. We felt like the under dog boxer who was asked to fight the champ. We knew we must work hard if we did not want to get blown off the stage. We had been prepped the entire year for bigger and better things. Now it was a waiting game.

Earlier in the year, we had been honored by SESAC at a big formal dinner where we met Gary Chapman. Chapman had heard of us, which made us feel important. Troy and I played a song writers' showcase during this week with the likes of John and Dino Elephante, Bruce Carroll, Wayne Watson and Steven Curtis Chapman (who later told Troy that his wife liked our song the best of the evening).

Twila Paris performed, and said that she had written her song while washing dishes. When I got up to perform "Everybody knows my name," I said I had written it while washing dishes. Twila replied it must have been awfully hot water. We were the first metal band to play t-pac during GMA week. After our blistering set, we were interviewed on stage by Wayne Watson.

Before this blazing performance, back in the dressing room, I had noticed Rik and Jerry acting peculiar. I could not take it any longer. I had to ask why they were behaving oddly. Jerry responded, "you know why." He was angry about something, and I was supposed to know what it was all about, but I did not have a clue. Dez had walked into the dressing room at this time, and, knowing that things were about to heat up between band members, I asked Dez to leave. I think he knew something was up by the static in the air when he walked in, because he just turned and exited.

Jerry and Rik's problem was the fact that they had attended a SESAC ceremony with us the day before, and the ceremony was to honor Troy and I as songwriters. Jerry and Rik were not honored, and had to sit and watch us receive these awards. Up until this time, I was still unsure of Jerry and Rik's status in the band. After all the trouble we had in the past with band members leaving, I felt as though Troy and I were Bride. Jerry and Rik felt, even though their names were not on some of the songs as songwriters, they should have received credit.

I thought this was the worst time to be discussing something like this, knowing that we would be performing shortly. After a heated conversation, we finally decided that any songs written in the future would be scrutinized thoroughly to give everybody credit where credit was due. I just did not want them thinking that I was making lots more money than they were. Former band members in the past had thought that Troy and I were getting rich while they made no money. The fact was, Troy and I were putting our own money into the band daily to keep it afloat.

Jerry and Rik never saw my true dedication to the band and the hours that I would put into it away from everyone. My phone conversations with the press and radio, having to deal with the record company and answering all the letters personally that came into Bride's mail room (that being Troy's bedroom). Now looking back, I can see their point as to why it seemed that Troy and I were receiving all of the attention, but this was not our doing. It was Star Song's bright idea to leave Jerry and Rik out of everything from certain artist showcases, to the cover of Kinetic Faith and even promotional ads.

The food fights

A long time ago, on an interstate far, far away ...

We would get bored on some of the longer trips. Seemed like the Midwest highways went on for miles on end with no end in sight. We found a way to break the boredom. Troy's wife, Michelle, was one of those mild mannered people who had a camouflaged streak of meanness in her. Coming from a show one evening, we were on the way back to our hotels.

Troy was driving our van, with Michelle on the passenger's side, and myself in the rear seat. Rik was driving the second van. Michelle motioned by waving her hand out of the window for Rik to pull alongside of our van. We had just left a little ice cream shop where Michelle had ordered a cone too large to eat. As Rik paralleled our van his window came down ... and that is when Michelle tossed her cone, half full of ice cream, into their van like a grenade. It exploded all over Rik, into his hair and all over his clothes.

This was the beginning of the Van Wars.

Coming from Olathe, KS, heading for Bartlesville, OK, we had been driving like red barons. Jerry nearly took the front of our van off as they bombed us with food and sped around us. He was driving and hanging out the window as they passed, and he looked a bit crazy, and his driving was even worse. We stopped at a country restaurant where we filled up on gas, and Troy went to their kitchen and secretly bought a dozen eggs for ammunition. The war continued on the road, Jerry and Rik being hit with accurate bombing from Troy's deadly arm.

These wars were taking place on major interstates at speeds of 70 and 80 mph, slowing only long enough to let the enemy get close enough to launch a surprise attack. Apples, oranges, candy bars, even shortening was tossed, but we never littered trash (only biodegradable substances). While riding shotgun, Jerry was the triggerman for the second van. His aim had been off, and somewhere he had gotten his hands on some eggs. I guess the excitement got to him. We saw them behind us, gaining! Jerry was preparing the onslaught when the egg he was holding exploded in his hands. Rik demoted him immediately to the back seat, and Vince, our roadie, took the gunner's seat.

Finally, we had to stop at a car wash to try to get the egg off the vans before it ate away the paint. Most of it came off, but even with hard pressure from the car wash, we were unable to get it all off. The hot Mid-western sun had baked it on. We made an egg truce and promised no more egg attacks for the sakes of the rental vans.

We did a very successful in-store appearance in Bartlesville at a bookstore, where so many people showed up that some were turned away. This was a promotional appearance before the main show that evening at The Warehouse. The Warehouse was run by Tim Cook, and, in the past few months, had really grown into a great place for bands to play. After the in-store, we all were walking back to our vans, and I was about to step into the van when I felt a thump against my leg. It was an egg!

Jerry had launched a minor attack and had broken the seize-fire truce. I pretended to ignore this assault, and we climbed into the vans and went to the hotel. We had eggs left over that we had not thrown, so Troy and I devised a plan. We loaded ourselves down and went to the room where Jerry, Rik and Vince were staying. I knocked on the door, and Jerry asked, "Who is it?"

"It's Dale. Open the door, I want to talk to you about a couple things I forgot to tell you." I replied. Jerry eased the door open, and he had it latched with a chain inside, being apprehensive. "What do you really want?" he asked with a big grin. His tone of voice was uneasy and cautious. We heard Rik say, "They're pulling something. Don't you open that door, Jerry." Jerry chuckled and said, "What do you guys want?"

"I told you. We need to sit down and discuss some things about tonight, and how we want the show to go, and things like that," I responded, trying to sound as honest as I could. I knew if I could get him to unlatch the door that they would be easy pickin's in that tiny hotel room. I also assumed that they had no way to defend themselves. Rik at this point, who was on the other side of the room, begged Jerry to close the door, but for some reason Jerry's curiosity overwhelmed him, and the door latch was undone. I think he had planned just to peak out a little more to see what we were up to, but he was no match for my upper body strength and Troy's basketball playing legs.

We pushed the door open. Jerry went backward into the wall. He took two direct missiles right on top the head and sunk like a worn fighter without defense to the floor. Rik leaped to his feet and said, "Man, I didn't have anything to do with it!" Before he could finish his last word, he was carpet bombed. Vince stood in the corner helplessly. I started for a moment to spare him, but let loose one hard throw that hit the wall behind him and splattered on him anyway. Troy and I exited like jungle soldiers, knowing we had won the war. From in our room we heard Rik yelling at Jerry, "I told you not to open that door!"

This is just another example of when you leave men alone unsupervised and they become little boys. No one was mad, and we all got a big laugh out of the ordeal later.

Star song felt like, at this time, it was expedient to prepare the band for big things, so they gave us the name of a guy, Dave Kelly, who was supposed to know everything about anything in the music business. We drove down to Nashville, where we had our $35.00 an hour meeting. Dave did not think that the Stryper tour would do a thing for us. He felt, because Stryper was on their way down, that it might hurt us. He also said something that made us think he was crazy. He advised that we leave Star Song, that they could not do a thing for us.

At this point, we just could not see what he was talking about. Dave was right on with the Star Song suggestion, as we would find out later they could not take us where we knew we needed to go. The Stryper tour, however, would launch us into another plateau that we could not have done on our own at this point.

We really were not aware of the supernatural forces of God working in our lives at this time. The Lord had been molding us and shaping us all along. He was working in us to bring us to a place of maturity. His will and thoughts were being exercised in our lives daily, and we were somewhat oblivious to this. (Rom.9:11-26; Isa.55:9; Job 37, 11:7; 2 Cor. 3:5.) More often than naught, we hindered His will by not obeying or not seeing Him when He appeared.

God was always in control of our lives. His omniscient Spirit is always present, and ever proceeding in a patient, creative, efficient manner towards its determined consummation. Even time itself is confined within the realm of God's own will (Rev. 1:8; Eccl. 31,17; 8:6; Acts 17:26; Heb. 11:3; Gal.4:4). We would soon discover that we were fulfilling God's plan in our lives. The unregenerate and carnal man is but a prisoner (Psa.102:19-20;
68:18) of his own thoughts and his own self will. The Lord was taking us through rehabilitation for His grander purposes.