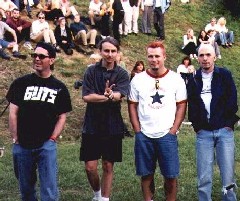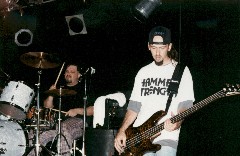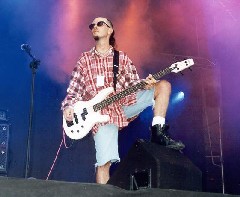 Chapter 15
Rebuilding

We scheduled rehearsals with Steve Curtsinger immediately when we returned from Germany. We would move our rehearsal to Troy's newly built home. Jerry called me the day of the first rehearsal and was deathly ill. It seemed that he had shook off the flu from Germany but contracted a stomach virus when he returned. I now was fighting the flu but we were still going to rehearse. We had shows right around the corner and we had to be prepared. At this time I sent my solo project away to be pressed and I was looking forward to getting it back in time to sell at the Bride shows.

April 9th we headed out for Hannibal Missouri, to do a single show. Everything felt a little awkward like there was a peace instead of the unrest that was normally felt. Steve rode in the second van with Jerry, Vince and Pam (Jerry's wife) so I was not able to get a full picture of how things were working. I could tell though that Jerry was still trying to adjust. We had got a late Start because one of the vans had broke down before we left the driveway. We had to wait an hour for another van to arrive. It was about a 7-hour haul. When we arrived the P.A. was still being hooked up. I was sitting talking with the soundman when I saw Vince who was standing on the stage reach out toward Steve's amp, which had a broken wheel. The amp began to rock and then tilted over. I jumped from my seat to try to catch it. I barley got my fingertips on it but my foot was directly under it. The amp smashed three toes on my right foot. I could not just jerk my foot out I had to lift the amp up to get my foot out. I returned to my seat afraid to look at it because the toes felt broke. Only the promoter knew that the amp had caught my foot. I guess since that I had not screamed or made any sound everyone supposed the amp had missed me. I went down stairs into the dressing room and took a look. Even though it felt like I had broke some toes and the swelling was bad, I figured it was not broke. It had turned blue and purple almost immediately and we were about an hour away from starting the show. I put some ice on it up to show time but it did not seem to help. The show went on with me standing stationary most of the night. Steve's performance was excellent. I guess Troy and myself had more trouble than anyone. Troy was still plagued by the flu and with me doing my peg leg pirate routine I am sure we looked beaten. We then had shows in Lynchburg VA, Olathe Ks, and one of our favorite places The Warehouse in Bartlesville Ok. Steve was being broken in quickly. We had only rehearsed three times before our first show and now we were playing nearly every weekend. He had played more shows with us in the first month than he had played with Killed By Cain the whole time they had been together.

April 22, 1994 President Nixon died. I had been a big fan of his probably because I was raised as a Republican. The following day Troy moved out of our parent's house to his new home. It was really weird that Troy was moving. He had worked on his house for months and I seldom saw him other than to do shows or rehearsals during this period of time. Loading the moving truck with all of his personal things was just a part of things changing. When you are kids, you just do not think about growing up. I guess when I got married Troy probably felt a little strange like things were changing. Then too with Nixon dying it was like the pages were turning away from my youth and I began to ponder questions about the future. The future of Bride, the future of my family. I had always thought about aging and even though only being thirty years old I was looking much further ahead. At this point in the Bride legacy, I was praying for God's direction because I knew within myself that Bride could not and should not do another metal record. I felt like I had said it all with Snakes and Scarecrow and I felt like the direction of the band rested upon my shoulders as an artist. Bride was capable of playing any type of music but I wanted to break new ground. How were we going to do it? All I knew is we should continue playing shows because we had a strong following and we were being effective as a ministry in winning souls.

I had saw an interview with the Rev. Billy Graham where he had said that he had considered himself a failure. If Billy Graham could say that then what did that, make me? I wanted to do more and in order to achieve the vision that I had; I was awakened to the reality the band would soon have to change.

GMA week approached and Troy and I were invited to the song writers showcase. We were asked to play "Would you die for me." Other artist included, Charlie Peacock, Steven Curtis Chapman, Margaret Becker, Wes King and our good friends Guardian. On our way to Nashville to participate in this festive event, our rental car broke down in Elizabeth town. Sharon and Michelle who were with us decided we should eat lunch while we waited for the 2nd Lincoln to be delivered to us by Budget. After about a hour of waiting the car arrived and we drove on without delay to Nashville. Troy and performed and we decided not to wait around for pictures so we left before the event ended. On the way, home we ran into more car trouble. Fifteen minutes out of Nashville we stopped for gas I handed the car keys to Sharon, who accidentally locked them in the car. After a two-hour wait for a locksmith to arrive and break into the car we drove the seemingly never ending drive home. We arrived at home about 4:30 am to find a note from the baby sitter which read Greg Martin will be coming up to write some songs at about 3 p.m. I only got 3 hours of sleep.

Greg and I had talked for a long time about getting together and writing some tunes. He knew his living came from the Kentucky HeadHunters but Greg really wanted to write some Christian songs. Greg arrived just a few minutes late and after a coke and conversation we tried out some tunes. Greg was playing a Martin box guitar and from the start, we caught a vibe and two songs began taking shape. Troy came in about an hour and a half into the rehearsal and Greg asked him to bring over a guitar. Within about 3 hours of Troy's arrival we had worked on and created several tunes that had potential. I was thinking that maybe this was the change we needed. Greg's busy schedule with the HeadHunters would prohibit us from getting together very often but we had began something. We nicknamed the band Dixie Highway in honor of a famous highway that ran by my house. I was hoping something would transpire out of this practice but time would tell. The songs that we had worked on were very blues oriented and exactly what I was hoping for. Troy and I had not sat down with anyone like this in years to
combine ideals and we both agreed that it felt very refreshing.

On with the show

1994 brought us our third Dove trophy. Psychedelic Super Jesus won the recorded metal song of the year. We all were less enthusiastic about the win seeing that the two previous awards did not open any new doors for us. 1994 also reunited us with Michael Sweet and The NewsBoys at the Agape festival in Greenville Illinois. It was great to see Michael again he had been a real brother in the past and he seemed really happy to see us. His set was one of the very few I had watched in a long time. I thought his new band was tighter than the old Stryper and that he never sounded better. We would see him again the following week in Dayton TN at the Strawberry Festival.

My solo record was now in full stride and there was mixed reactions from the fans. I think it was so off the wall that they needed to get used to it.

Troy and I had finally got a meeting set up to speak to Peter York of Sparrow. Steve Baker met us in Nashville at Sparrows offices and after a short wait; we entered into Peter's office. We sat through a history of Sparrow and heard much of what we had already heard from other record companies. Peter did not convince us that he was excited about the prospects of landing us. I think he would have loved to have us on his label however he did not say anything that would make me want to sign a contract with them. Troy and I both had the same feelings. John and Dino were on our minds. They were the only two that we had talked with that truly seemed excited about having the band. All they wanted from us was a one-page contract laying out the blue print for a production project that they would shop for us. Steve was not against the idea but he warned that we should really pray about it. I could not have agreed more. There was no one at this point in the Christian community that I felt had Bride in their best interest. Everyone seemed to be greedy and only thinking of themselves. I prayed that the Lord would show me the way.

Steve our new bassist was still trying to adjust to the Bride routine and he said he felt really blessed to be a part. Jerry was still trying to get used to the fact that Rik was gone. He did not bond quickly with Steve and this worried me. I needed a band that felt as one and now we seemed to be playing as well as ever but there was a confidence factor that was missing. There was an edge of confidence missing that I hoped would return soon. It was not anything to do with Steve's ability as dedication as a member but rather that Rik had been such a presence on and off stage. The fans did not seem to miss the giant but the bands aggression and vibe had lightened. May the 15th in Dayton Tennessee at the Strawberry Festival we experienced our first rain out since we had been a band. It had rained on us in the past at out door shows but this time it really rained. The stage was right next to a lake that was over flowing. The whether reports were calling for electrical storms. Upon little persuasion from the promoter, the sound, and light company who had lost a P.A. system to rain the day before called it quits. It was going to be another show with Michael Sweet but it was cancelled. We had fellowship at the hotel then later that evening at a restaurant called Bubba's. Bubba's was a small family type restaurant in the heart of Dayton. They served everything from seafood to ribs to chicken to alligator. I could not pass up the opportunity to try some gator. I had ate snails in Florida crawdads in Louisiana now gator in Tennessee. I would have to say that every neighborhood needs a restaurant like Bubba's.

More production delays with "Scarecrow" was now threatening to push the release further back. Troy and devised another plan to bring in revenue plus please the fans. We decided to assemble a twenty song Matrix CD. Since Matrix was only available in the past on cassette, we figured the fans would appreciate a CD. I personally handled the arrangements and processing and we were racing the clock to have them by Cornerstone Festival. Our next date was a fly date into Canada and we were sure this was going to be lots of fun getting into the country, we were Bride.

Scarecrow Messiah

My solo project was selling well and I even sent it out to the metal radio stations to try to pull some airplay. I got favorable response and even a call from Dig Hay Zoose saying how much they liked the project.

The first single Beast from "Scarecrow Messiah" arrived to me in the mail from Star Song June 10th and it was great knowing that the record would soon follow. With a release date of June 16th, it would still not be soon enough for the hundreds of Bride fans that had written and phoned. This was the first record we had recorded that I listened to at least once a week for the first couple of months. Deep in my heart I did not feel that it would do any better sales wise than Snakes had done but I felt more gratified with the overall performance of the band and the songs. I do not know if it was because the record had been so long in coming or if I just, liked it that much more. One thing for sure I knew I would be ecstatic once I was holding the finished CD in my hands.

Bill Reed claimed to be waiting for the release of the record to began his sweeping tour plans of the country with Bride. Steve Baker was now off the road from PFR and promised he would concentrate heavily upon getting the band a new record deal. Peter York of Sparrow had called Steve and had passed on signing us. He told Steve that he honestly did believe in the band however Sparrow was running over the rim with artist and they just did not have any more room. He suggested taking the band to Reunion records. I really did not want to get hooked up with another Christian record company but I was willing to listen to best offers. I felt like we had already gave it a good run with Star Song and I just did not feel that any of the Christian labels would know what to do with us. Michael Sweet was having good success with Benson "so it seemed" but I knew that not even Benson could handle Bride. Steve and Bill both partly placed the blame for Bride's stand still on Troy who still held down his day job. They felt that if they could free Troy up and cut him loose from the government that they could really go to war for us.

Oddly enough my solo project felt so good to me that I was more interested in recouping my expenses with that and beginning another one. Bride seemed a little distant from me during this period of time. We were still playing almost every weekend. We were on the cover and featured in the currant issue of Heaven's Metal. The mail was coming in more than ever and we had our best album to date about to bust out of the shoot. I called Scarecrow the most highly anticipated record of 1994. There were so many rumors floating around about it and the release delays that I figured that even non-Bride fans would buy it out of curiosity. Even though to the public's eye it looked like Bride was at it's height of popularity I personally had lost interest and felt like I was just going through the motions. I had always said when it stopped being fun I would quit and now there was that debate going through my mind and prayers. My greatest satisfaction had come in the form of a self-financed and self produced project called "Speak into the Machine" and my creative juices were flowing like Picasso planning my next abstraction musically. I had always said that it is foolish to disband or break up a successful band when you can always record and sell records to the fans. Bride was responsible for ministering to a lot of people. Many people depended on our obedience as writers and musicians to the faith to deliver records for their edification.

My lyrics had been applied to many a life struggling with life's questions. I was usually the last hope of the people who wrote for advice or counseling. I knew my work in Bride went way beyond that of a singer in a band. I held the weak together at times as they searched their souls through the lyrics printed on the inserts. There was something I needed to do though, that thing was another solo project. A more in depth piece of work that would surpass anything that I was capable of in the past. I had been seeking the Lord for ideals lyrics and concepts and I was getting close. I now needed the finances to make it happen. I felt that there was a market and a hunger for what I was blueprinting.

Bride was easy. Troy and I had done it for so long that putting together Bride record took little effort. I was so used to working with Troy as a team that working alone was frightening but yet tantalizing. I desperately was looking for a challenge. The fear of failure was my motivation. To do a project so far left of what Bride was or even so much different than Speak into the Machine and have it reach people who had sought after music in this vain would be wonderful. I felt like "Speak into the Machine" had spoke to people in a way that they had not been spoken to before. Now I wanted to reach the masses of people who thought that Tom Waits or Pink Floyd had hung the moon.

I really enjoyed playing in Bride and listening once in a while to our music. The live performances were the high points. On the contradictory side of things, I did not like the bands that we were compared to. Zeppelin was the only band that we were ever compared to that I was honored to fall into the same sentence. To do three or four more Bride records on a Christian label would make no sense what so ever. We would become stale even to our fans and I believed we would become robots as musicians. Bride's future rested in the decisions that we would make in the near future upon the advice and counsel that Steve Baker would deliver to us after knocking on a few doors in the industry. No one in Bride wanted to be doing the same type of shows, in the same small towns, for the same number of people a year from now. My prayers were for God's will but also for a clear direction. We had a couple of weeks off before the Cornerstone festival. Sharon and I decided to take a much-needed vacation away from the kids and the band. We planned our trip for Vegas and Sharon was eagerly awaiting our departure. I was going to try to go a week without writing a lyric, try to go a few nights in a row with a good sleep and not waking in the middle of the night with a new song ringing in my mind. Some nights I could hear the music like a radio at it's lowest volume. I physical, mentally and spiritually needed to come in off the battlefield for a week. I had been bruised for a long time and like a prizefighter that was standing only because of the size of his heart, I needed to sit and heal. I would be
better at war if I could regroup.